Sampoorna Seva 2.0
When you buy a Tata Motors Truck, you are buying not just a product, but a universe of services that includes everything from service, roadside assistance, insurance, loyalty and a whole lot more. You can now focus wholeheartedly on your business, and let SampoornaSeva take care of the rest.
Sampoorna Seva 2.0 is all-new and enhanced. We have collected feedback from over 6.5 million customers who've visited our centres in the last year to create this continuously improving holistic service.
You will benefit from the assistance of over 1500 Channel Partners covering 29 State Service Offices, 250+ Tata Motors Engineers, modern equipment & facilities and 24x7 Mobile Vans.
Sampoorna Seva by Tata Motors is a complete care package for your business, right from the time you buy your vehicle and at every step of your business. Whether it's Insurance or Breakdown, Rewards or Genuine Spares, Resale or Warranty, Sampoorna Seva covers it all. Now you need not worry about anything, just concentrate on your business and take it to the next level.
After all, Tata Motors is with you Har Kadam.
With a 3 Years/300000 Kms (whichever is earlier) Driveline Warranty on all Yodha Pickups, we strive to take your business on the road to progress.
KEY FEATURES
Supported across Tata Motors' extensive dealership & service network of over 1500+ touchpoints with service facility at every 62 km across the country
TATA delight
Launched in February 2011, Tata Delight is the first-ever customer loyalty programme in the commercial vehicles industry in India. All customers who purchase Tata vehicles automatically become members of this loyalty programme.
KEY FEATURES
Loyalty points on every Rs.1,000/- spent at Tata Motors Authorised Service Outlets, Spare Parts Outlets and Programme Partners
Membership validity for 5 years and points' validity for 3 years.
Up to Rs.10 lakh Accidental Death/Disability benefit & up to Rs.50 000 in Accidental Hospitalisation till membership validity.
More than 12 lakh retail customers are already part of the programme.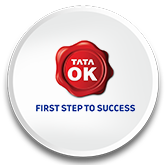 TATA OK
With Tata Ok, you can sell or buy pre-owned Tata Motors Commercial Vehicles. We are involved in every stage of sourcing and buying, valuation, refurbishment and sale of refurbished vehicles to prevent any malpractice.
KEY FEATURES
Get the best resale price for your existing commercial vehicle
Evaluation at your doorstep
Get up to 80 % finance on TATA OK certified vehicles
Warranty on TATA OK certified pre-owned vehicles
TATA GENUINE PARTS
In order to keep Tata commercial vehicles in perfect condition for years, we offer Tata Genuine Parts (TGP). A division of Tata Motors, TGP provides over 1.5 lakh SKUs of spare parts for the upkeep of Tata commercial vehicles. Each of these spares are manufactured as per exact vehicle specifications passed through various quality checks, resulting in a perfect fit, increased service life resulting in longer uptime, to take your vehicle over longer distances.
KEY FEATURES
A distribution network of over 230 distribution points and 20,000 plus retail outlets backed by five warehouses
Every Tata Genuine Parts product is built to provide longer uptime and service life than any non-genuine spare part
Not only is every part designed as per exact vehicle specifications, but it also has to pass multiple quality control checks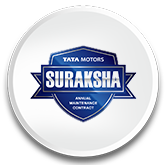 TATA Suraksha
An annual maintenance package that takes care of complete preventive & scheduled maintenance, and breakdown repairs of the vehicle driveline, at a pre-determined price. Currently, over 60,000+ customers across India have Tata Suraksha. 3-year contracts are available for SCV Cargo & Pickups.
PACKAGES AND INCLUSIONS
Platinum Plus: Comprehensive coverage at doorstep
Platinum: Comprehensive coverage
Gold: Preventive maintenance + labour on other repairs
Silver: Preventive maintenance coverage
Bronze:Labour
*Tata Suraksha Actual offer packages to be checked from respective dealership
TATA Alert
Our 24x7 roadside assistance programme that promises resolution within 24 hours for all Tata Motors commercial vehicle models under warranty period, anywhere across the country, irrespective of location.
KEY FEATURES
Acknowledgement time of 30 minutes
Our team will reach you within 2 hours during daytime (6 am to 10 pm) and up to 4 hours during the night (10 pm to 6 am)
In case of any delay, a compensation will be paid up to Rs.500/day
Redeemable on subsequent purchase of TGP and Prolife aggregates
*T&C applies
TATA kavach
Tata Kavach ensures that your business never goes off-track by offering the shortest possible accidental repair time. It is applicable for vehicles that are insured under Tata Motors Insurance, at selected workshops only.
KEY FEATURES
Repair in 15 days or else daily compensation of Rs.500 per day is paid to customers to make up for delayed delivery.
Accidental repair for vehicles reporting to TML-authorized Accident Special Workshops
Delay-based compensation beyond 15 days in multiples of 24 hours
Easy calls routed and registered through Tata Motors Insurance toll-free no. 1800 209 0060
*T&C applies
TATA MOTORS PROLIFE
Tata Motors Prolife offers re-manufactured engines on exchange basis to reduce both vehicle downtime and total cost of ownership.
KEY FEATURES
Re-manufactured aggregates range covers over 75 products, including engine long block, Clutch and Cabin priced at 40% to 80% of MRP of new spares
They are warranted againstany re-manufacturing or materialdefects
Tata Zippy
Tata Zippy is a repair time assurance programme for all BS6 vehicles. This assures fast-track service of any problem reported via toll-free number or at the workshop within 12 months after sale or 14 months after production of the vehicle, whichever is earlier.
KEY FEATURES
Assured problem resolution for regular service at workshop within 8 hours and for major aggregate repairs, within 24 hours.
In case of delay, a daily compensation of Rs.500 per day is applicable for all SCV Cargo & Pickup trucks only for warranty vehicles reported at workshop. Compensation payments begin after 24 hours of delay.
*T&C applies